Access to Capital in the Nursing Home Industry
A Resource on the Role of Policy and Implications for the Future
This study from ATI Advisory, commissioned by NIC, offers an in-depth look into the history of the nursing home environment and the policy events that have shaped this landscape.
Snapshot of the current nursing home environment

Data on residents/patients, staffing, reimbursement methods, infrastructure, and quality

History of policymaking impacts on nursing homes - both

intended and unintended
See the press release issued June 16, 2022.
"Public private partnership are failing, creating a skilled nursing industry with well-documented challenges that need to be addressed. Solutions should address the root cause of the problem: encouraging private capital investments to modernize buildings, improve operations and, most importantly, innovate to enhance resident care and quality of life." - Brian Jurutka, president and CEO,

NIC
The COVID-19 pandemic highlighted weaknesses in the United States' long-term care system, including its workforce challenges, financing mechanisms, and dependence on nursing homes as the primary infrastructure and only guaranteed site of care for Medicaid beneficiaries who need long-term services and supports. Understanding the events leading up to the current environment can help inform future paths.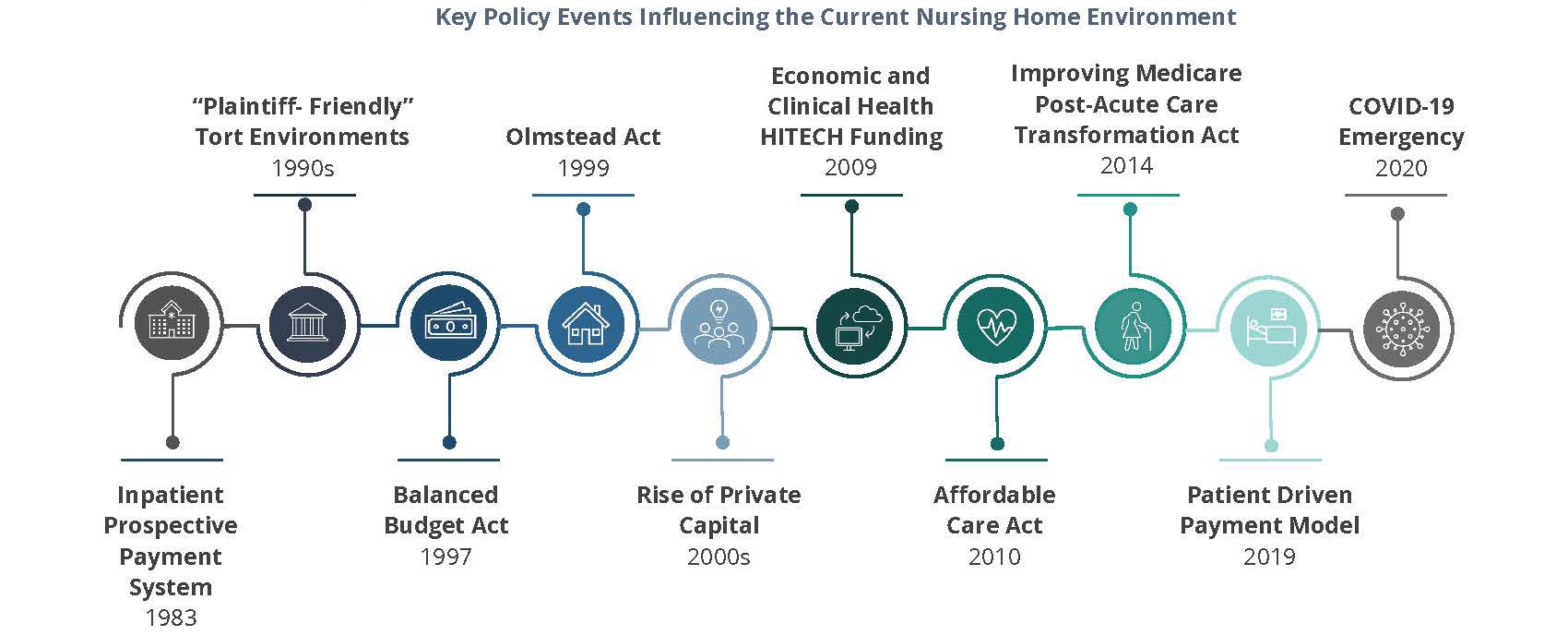 About ATI Advisory
ATI Advisory (ATI) is a research and advisory services firm working to transform the delivery of healthcare and aging services for older adults. ATI conducts research, generates new ideas, and helps organizations lead and deliver change in senior care.
Founded in 2014 by Anne Tumlinson, ATI Advisory is a team of researchers and business strategists with expertise in Medicare, Medicare Advantage, Medicare and Medicaid integration, long-term care service delivery innovation, post-acute care service delivery innovation, and seniors housing and healthcare integration. Team members have worked in both public and private sector positions and bring diverse experiences and perspectives to each new project.
ATI's focus is to break down public and private sector barriers that prevent innovative solutions to siloed, broken systems across acute, post-acute, and long-term care services and supports. ATI provides insight and strategy backed by original research and delivers practical solutions for organizations and families they serve. To learn more, please visit ATI Advisory's website.