NIC Leadership Huddles
A Webinar Series
Deal Structures and Alignment of Interests during a Pandemic: A Case Study with An Operator, Lender and an Equity Provider
March 10, 2021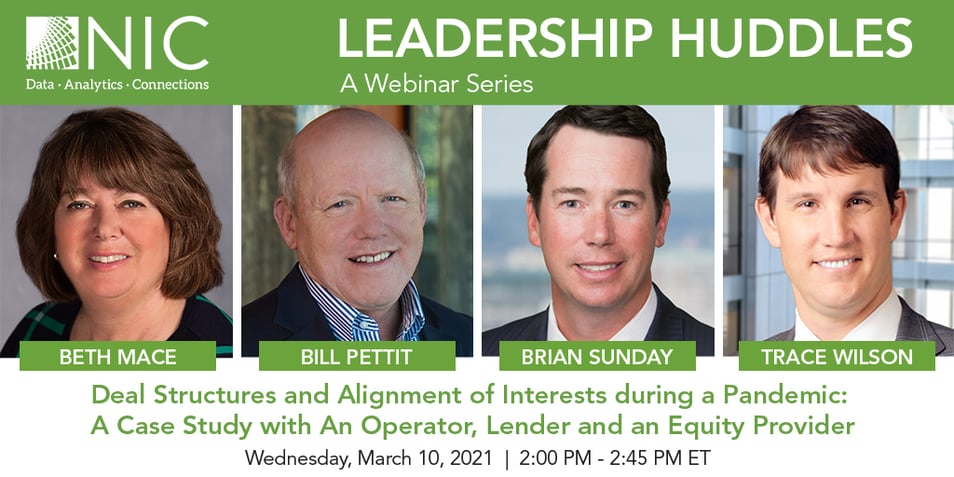 NIC's popular Leadership Huddles Webinar Series is back!

Sponsored by: BOK Financial

This discussion will feature an open and frank discussion between Bill Pettit, President of Merrill Gardens, Brian Sunday, Managing Director of AEW Capital Management and Trace Wilson, Executive Director at PGIM Real Estate on the recently closed acquisition and recapitalization of a 10-property senior living portfolio operated by Seattle-based Merrill Gardens. PGIM Real Estate provided a $460 million loan to help fund the deal. The portfolio consists of a mix of 1,508 independent living, assisted living and memory care and multifamily units, as well as 29,00 square feet of ground floor retail.

In this session you will learn about:
• Underwriting assumptions regarding near-term pandemic-related threats
• Return expectations during the pandemic
• Long-term views on the sector and markets in which the properties are located

Subject Matter Experts:
Beth Mace, Chief Economist, NIC
Bill Pettit, President, Merrill Gardens
Brian Sunday, Managing Director, AEW Capital
Trace Wilson, Executive Director, PGIM Real Estate

BOK Financial Company Bio:
BOK Financial is a top 30 U.S.-based bank with more than 20 years of experience in Senior Housing and Care. We provide customized and flexible financial solutions along with a suite of ancillary banking services designed for owners and operators of post-acute properties, primarily skilled nursing and senior housing. We also serve a broad array of other healthcare providers giving our team a deep understanding of the overall Healthcare system and the role of post-acute care.



Following a 45-minute GoToWebinar presentation, up to 75 attendees (first-come first-served for those who opt in during registration) will break into peer-to-peer small group discussions with facilitators and subject matter experts in Zoom.



About NIC Leadership Huddles:

NIC Leadership Huddles bring together subject matter experts from seniors housing, skilled nursing, and healthcare to share -and discuss- timely perspectives and thought-leadership on topics spanning investment, operations, and policy.

Attendees can expect the same high level of expertise, analysis, insight, and thought leadership found in our conference programming. This format focuses on the most relevant and impactful subject matter, delivering timely information while keeping pace with change.

To learn more about previous Leadership Huddles, please visit the COVID-19 Resource Center.

NIC is extending sponsorship opportunities for each Leadership Huddle Webinar. To learn more and inquire please visit our Sponsorship Page.
Before joining, be sure to check system requirements to avoid any connection issues.
Recording:
Is There an Investment Case for Skilled Nursing in the
Intra-and Post-Pandemic World?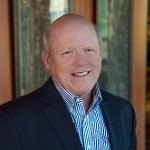 Bill Pettit
Bill Pettit is the president and chief operating officer of the R. D. Merrill Company with responsibility for Merrill Gardens and sister company Pillar Properties. Merrill Gardens is one of the most respected assisted living operators in the country with 70 communities in 20 states.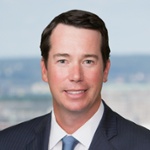 Brian Sunday
Mr. Sunday is a Managing Director at AEW and Senior Portfolio Manager for the AEW Senior Housing Investors fund series. In his role as Senior Portfolio Manager, he is responsible for overseeing all aspects of the Funds and is a voting member of the Funds Investment Committee.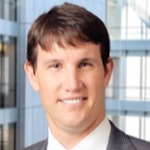 Trace Wilson
Trace Wilson is an Executive Director with PGIM Real Estate. In this role, he is responsible for originating mortgages for all major capital sources, including portfolio, Fannie Mae DUS®, Freddie Mac and PREDS both across the Southeast and for the senior housing and care industry nationwide. Trace is located in Atlanta.
Deal Structures and Alignment of Interests during a Pandemic: A Case Study with An Operator, Lender and an Equity Provider
Future Leadership Huddles
March 10, 2021 | Deal Structures and Alignment of Interests during a Pandemic: A Case Study with An Operator, Lender and an Equity Provider